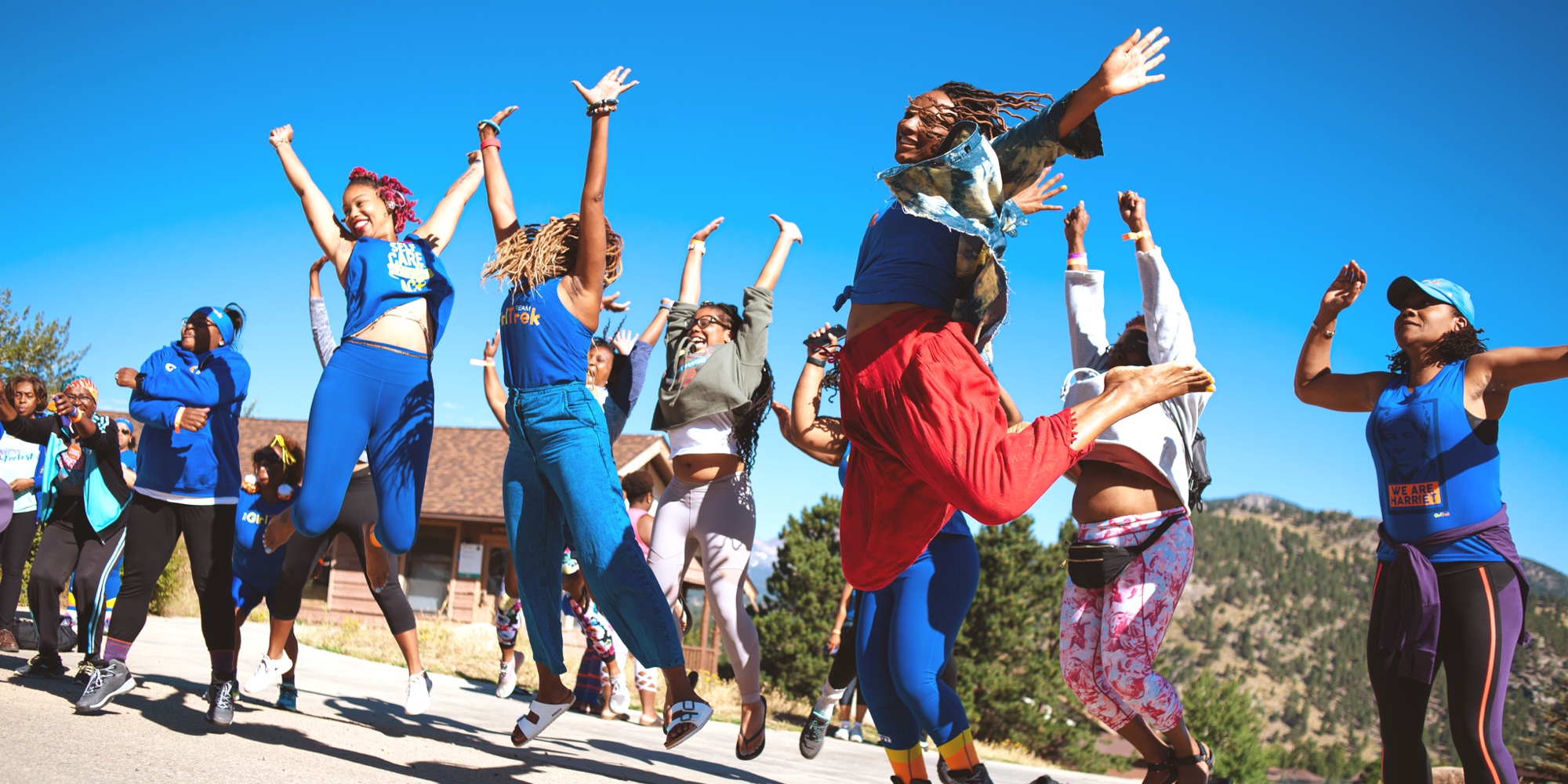 Our Mission
To unleash a mass movement for health justice.
A Groundbreaking Movement
Powered by the love and momentum of Black women everywhere walking out of their front doors in solidarity, GirlTrek will unleash a mass movement for health justice.  Energized by the discipline of daily walking, we will collectively organize to shift policy, change systems and—at scale—solve the seemingly intractable problems facing our daughters.  We will not ask permission to save our own lives. As we press toward the mark of true liberation with a 5-point health justice agenda.  AND we will never forget that our foremothers sacrificed their very bodies for American justice.  We will divest from any systems that requires our silence or sacrifice.   And we will always remember that our walking is grounded in deep satisfaction, radical rest, hollering happiness, and generational healing.  Our joy is our resistance.
And in our own quiet moments, each of us will open our front doors to let the sunshine in.  We will walk to heal our bodies, inspire our daughters, and reclaim the streets of our neighborhoods. Like Harriet, we may have to walk alone. …to quicken change or to slow down demands, to listen to our own heartbeats or to release to the sky.  And when we find that kind of strength – to hope – to take that solo walk – to step out of on faith toward our healthiest, most fulfilled lives, the mission then becomes deeply personal-to come back and get a sisterGirlTrek is a life-saving sisterhood.
GirlTrek's 5-Point Health Justice Plan
The energy of the current historical moment positions GirlTrek to lead population-level and systems change. We will mobilize our members through collective action and local service opportunities to:
1. Disrupt Disease
We will mobilize millions to walk, talk, and solve problems together. Black women are the best caregivers in the world. Rather than hemorrhaging care to others, GirlTrek will mobilize its members to scale "care to the caregivers"  and to serve Black communities through traditional on-the-ground direct action each Saturday that addresses the root causes of disease. You will find GirlTrek field staff and members leading wellness walks at prisons, volunteering at domestic abuse shelters, serving as foster parents, delivering mental health first aid, and harvesting urban gardens.
2. Mobilize Political Power
GirlTrek members will become super-voters in every election—from local school boards to US president.  We will vote AND we will mobilize our communities to vote.  We will canvass our neighborhoods, register new voters, lead walks to the polls and volunteer as pollsters.
3. Safeguard Black Culture
Our stories hold our solutions. GirlTrek members will work together to map and protect Black history, culture, and sites of significance worldwide through direct service, preservation grants, historic walking tours and "on-the-trail" education for every age demographic. We will plot points of significance, stand up monuments, rename streets, trails and parks, care for historic sites, and lend woman-power to any organization preserving Black culture.
4. Build New Economies & Fight for Labor Rights
Physical inactivity is a labor issue. GirlTrek will protect black bodies and labor.  Black women are exhausted. We are being exploited by our jobs and paid pennies on the white man's dollar.  In the footsteps of A. Phillip Randolph and many great labor organizers, GirlTrek will disrupt economies by training and unionizing frontline public health workers.  We are committed to protecting Black bodies and labor rights.  GirlTrek will start by building an online university that develops a new workforce of its members to secure and serve in wage-earning, frontline jobs. Then, at scale, will advocate for fair pay, workers' rights, and unleash our own capital pipelines to employ Black women on the frontlines of a wellness revolution.
5. Protect Our Planet
Climate change is the biggest threat to Black women on the planet. From sea-level rise to devastating drought, our very way of life and cultural connection to the Earth is threatened. GirlTrek will fight for environmental justice. We will amplify real solutions from our foremothers, the oldest caretakers of the planet. We will start in our own backyards. We will plant gardens, track the reduction in our members' carbon footprints from walking instead of driving, organize collective action for conservation, host hikes to reconnect with and care for nature, and serve on delegations to learn, promote and support sustainability practices across the diaspora.
At GirlTrek, you have discovered that your bodies are a source of power.
Like the women in the Montgomery Bus Boycotts understood,
GirlTrek is both a grounding and a direct action.

Marshall Ganz